Our head of sales, Mr. Vijay Z, discussed UCAM's innovative Tilting Tables at a recent interview with Machine Maker. He dove into the reasons our strategic decisions and cutting-edge solutions are truly extraordinary…
"Some manufacturers go into the numbers game… we didn't want to do that. Our offerings are highly customisable and specialised, to meet the precise needs of our customers."
We developed our latest Tilting Tables keeping our customers' valuable feedback in mind: the old versions of the tilting tables, across the board, are too big and take up too much space. It became our goal to develop something that solves this pain point, in India itself.
"Everything is indigenously designed, developed, and manufactured here in India."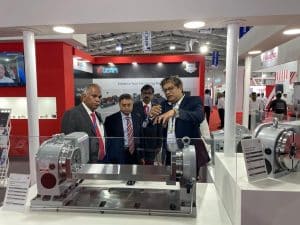 Our latest Tilting Tables are technically advanced, compact, and packed with features such as a double clamping system, and the ability to tilt at a higher range of (+/-) 110°.
"We took our customers' feedback and developed a more reliable, compact, and efficient product, which is aesthetically appealing."
Visual aesthetics are extremely important to match global standards. Indian technology has always been technically adept, but we lose out in different countries due to a lack of visual appeal. UCAM is aware of this and has tried to incorporate the global perspective from Day 1.
"India has always been advanced and capable in the technological field. But small changes like the aesthetic appeal, good branding, and sleek design play a crucial role in capturing global markets."
Although aesthetics and brand building may seem like small aspects - they are critical. UCAM has made precision and attention to detail the core of product offerings and of the company's mission.
"Our company currently services about 70% of the Indian market. Our product quality and servicing have made us the preferred partner for OEMs and customers."
As the parent company grows, the growth is going to be focused on taking 'Make In India' products to a global consumer base. The mechanical industry in itself is also developing and improving rapidly, making space for a new line of machining parts needed for drones, unmanned navigation systems and more!