What we do
Our Company
Our differentiation lies in cutting-edge technology, unceasing product innovation, and proactive customer relationship, making UCAM the most preferred brand in the Indian machine tool industry. UCAM's product line lays stress on quality, reliability, and performance.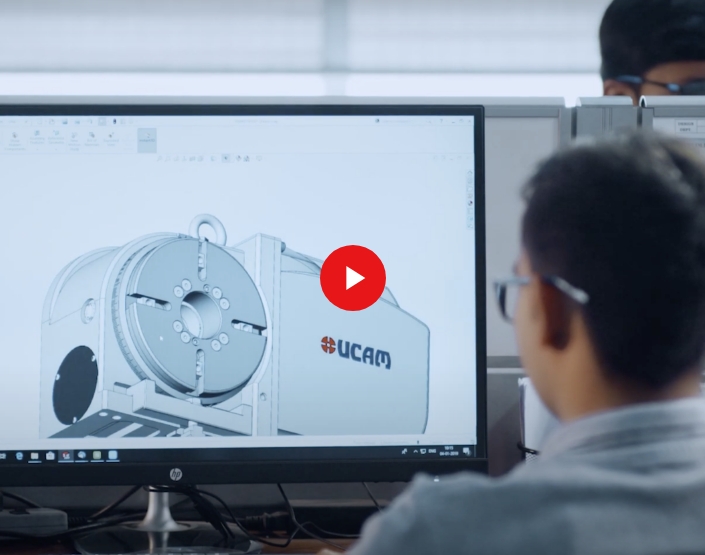 Business Verticals
UCAM's subsidiary specialising in products like spindles, bellow couplings, torque limiters, rotary union, and linear motion products.

UCAM
Mechatronics Visit Site

A UCAM specialist in the design and manufacture of high performance motors such as torque motors, indispensable in machine tools and in segments like agriculture, automobile and defense. BDLC motors and drone propulsion motors by Nimble Electric also demonstrate its expertise in the medical and aerospace sectors, respectively.

Nimble
Electric Visit Site

A UCAM offshoot committed to the design and manufacturer of precision gear cutting machines.

Nimble
Machines Visit Site
Infrastructure
UCAM is certified with ISO 9001- 2015 for quality management system by DNV-GL.
The top priority at UCAM is to bring "customer delight" to our customers spread all around the world through Quality and On time delivery, by embracing appropriate technology and involving its employees and business partners. We truly understand our customers' business.
Our facility is equipped with latest testing equipment for checking accuracy, correcting errors, index variation pitch to ensure high quality
UCAM's design department has been delivering quality & innovative product designs to fulfill the variety of customer challenges.

The R&D department, recognized by the Department of Scientific and Industrial Research (DSIR), Government of India constantly innovates and develops customer-focused cost effective solutions.
Milestones
1986

Establishment as Job Shop.

1986

Establishment as Job Shop.

1992

Launches its first rotary table

1995

Continuous Rotary Milling Table Dia 1600

1997

LM business starts. Tie up with Thompson Industries - USA

1999

Tied up with R+W , Germany as their sales partner (India)

2001

Accredited with ISO 9001: 2001

2003

First Exports to Europe

2009

Accredited to ISO 9001 : 2008

2010

R&D unit recognised by Government of India

2013

Nimble Electric launched.

2015

2 unit at Dobbaspet Nimble Machine Launched

2017

Accredited to ISO 9001 : 2015 5S Quality Award

2018

Received the Outstanding Entrepreneur Award

2019

Received FIE foundation Award
Vision & Mission
Inspirational Leaders
Personal Mastery
Continuous Improvements
Technology
Customer Experience
UCAM's 7 Mission
Quality Relationship
Integrity
Its manufacturing facility equipped with unforgivingly precise tech to eliminate aberrations, correct errors and index variation pitch, UCAM's quality management system is ISO 9001-2015 certified by DNV-GL.